List of administrative documents
Upon arrival at Sciences Po Lille, you will have to complete the administrative formalities with Ms. Fabienne Zélent-Clairis. You will be required to fill a few forms, and you will also have to submit the following documents:
a copy of your identity card or passport
a copy of your birth certificate (if possible translated into French, or at least into English)
a copy of your last payslip
a bank document with the following information on it: name and address of the bank, BIC and IBAN codes, your account number, your name and address on it. (this certificate needs to be stamped by your bank)

Discover Lille
Discover the North of Europe!
Lille is 30 minutes from Brussels, 1 hour from Paris and only 1 hour 30 minutes from London. Lille has fast and easy access to other European countries (including the Netherlands, Germany, Luxembourg, Switzerland, Italy…).
This privileged geographical position, enhanced by a high-quality transport network, makes Lille a real gateway to Europe.
Lille, in conjunction with the associated towns, constitutes the largest city in the North of France and is part of a cross-border metropolis of 1.9 million inhabitants in the centre of a Euro-Region.
Lille also has a significant number of theatres, music halls, movie theatres, an opera house and a national orchestra. The metropolis is home to a large number of often free and public events and festivals, including a choir festival, a famous accordion festival, the Lille Piano(s) Festival, the International Independent Movie Week, France's 1st Eco-Movie-Festival, a contemporary dance festival and yearly events like "Fête de la Musique". In summer, there are concerts all over town! Lille is a very good place for shopping with several malls, a large pedestrian shopping area and wonderful boutiques in the Vieux-Lille quarter, which has rediscovered its former splendor. There is also Euralille, the new business and commercial centre.
Hopefully you will be able to take advantage of the city's rich heritage while you are here. Lille is an active, dynamic cultural center, with museums, galeries, concerts of all styles, theater, and more. Lille is a Flemish-style city in France and has a considerable wealth of historic architecture. Lille hosts events such as the city-wide flea market (La Braderie) in September or the weekly markets in Wazemmes, which will allow you to get a taste of contemporary life here.

More about Lille? Watch this video!




How can I get to Sciences Po Lille?
Sciences Po Lille is located at 9, rue Angellier, 59000 Lille.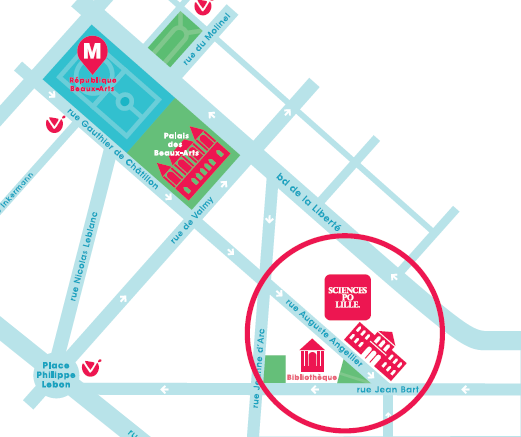 It is easy by subway!
From the station "Gare Lille Flandres" you have to take the subway n°1 (yellow line) (going towards CHR B-Calmette) and get off at the stop called "République Beaux Arts".
Ilévia is the company that runs all public transportation in Lille. Make sure to check their website for mor information.


From Lille Airport
The airport is about a quarter of an hour from the city centre. To get to Lille from the airport you just have to get on the shuttle bus (navette). Don't worry, you won't have to wait long at the bus stop, the shuttle bus goes to and from Lille 18 times a day from 5:00am to 10:30pm! (Do watch out for timetable changes on the weekend and bank holidays.)
Getting Around Lille
Lille has 68 lines of transport including 8 inter-border buses and 2 metro lines with more than 60 stops within the urban area. If you are feeling a bit sporty and want to discover the city by bike, you can rent one of the city bikes. For just 1€75 you can have access to the bikes for 24 hours. There is even a cycle path next to the tramway which circulates between Lille, Roubaix and Tourcoing.
Useful Sites
· V'Lille : https://www.ilevia.fr/cms/institutionnel/velo/faq-vlille/
· Lille Airport : http://www.lille.aeroport.fr/home/
· Train SNCF : https://www.sncf.com/en
· Train Eurostar : https://www.eurostar.com/uk-en?user_action=navlink_clicked
· Train Thalys : https://www.thalys.com/fr/en/
· OuiBUS : http://www.ouibus.com/
---