1. Accommodation
Campuséa


Students will be staying in Campuséa, a student residence located in the city centre. The residence is located near to the biggest shopping centre of Lille and to Lille's two train stations.
Student will be staying in a shared flat for two people. They will share the bathroom and kitchen and will have with their private 9 square meter accomodation.
Lille's sound infrastructure ensures that getting to your Residence, to Sciences Po Lille or to the city centre is as simple as catching a metro or a bus, renting a bike (V'Lille) or taking a pleasant 15 minutes walk.
Does your flight/bus/train arrive a bit late? Not to worry, the reception desk is open 24/7 to ensure that are never pressed for time to get here!
Services


Breakfast
Integrated kitchen
Bathroom
Access by secured badge
High debit Internet connection (line+wifi)
Washing machine and tumble dryer
Bicycle Parking area
24/7 reception desk
Leaisure area
Sports room
Co-working area






2. Sciences Po Lille
Sciences Po Lille
9, rue Auguste Angellier
59000 Lille
FRANCE
Tél : + 33 (0)3 20 98 48 40
www.sciencespo-lille.com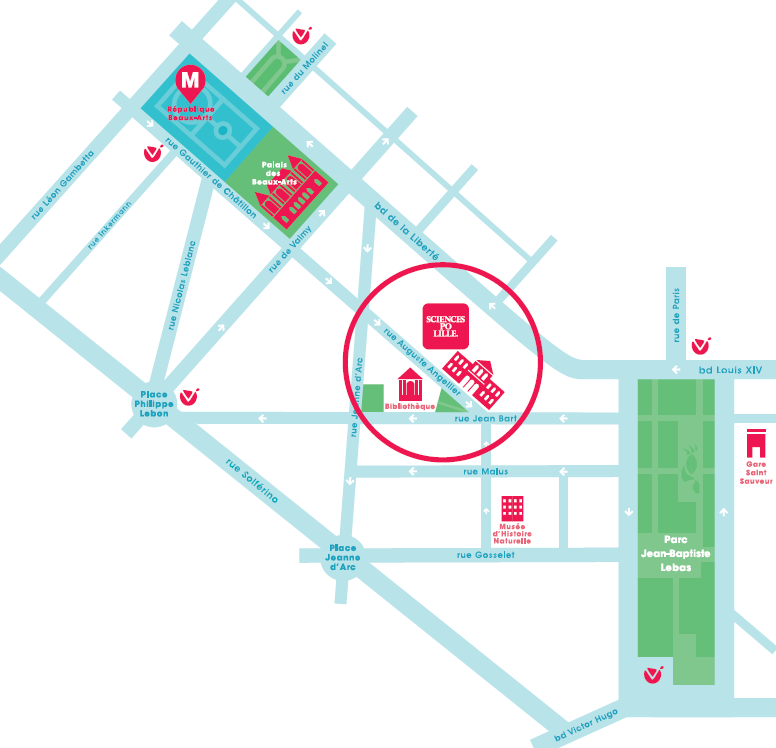 How can I get to Sciences Po Lille ?
Il is easy by subway !
From the metro station "gare Lille Flandres" you have to take the subway n°1 (yellow line, heading towards CHR B-Calmette) and get off at the stop called "république beaux arts".
Click here http://uk.transpole.fr/
From Lille Airport
The airport is about a quarter of an hour from the city center. To get to Lille from the airport you just have to get on the shuttle bus (French : navette). Don't worry, you won't have to wait long at the bus stop, the shuttle bus goes to and from Lille 18 times a day from 5:00am to 10:30pm! (Watch out for timetable changes on the weekend and bank holidays.)
Getting Around Lille
Lille has 68 lines of transport including 8 inter-border buses and 2 metro lines with more than 60 stops within the urban area. If you are feeling a bit sporty and want to discover the city by bike, you can rent one of the city bikes. For just 1€50 you can have access to the bikes for 24 hours. There is even a cycle path next to the tramway which circulates between Lille, Roubaix and Tourcoing.
Useful Sites
• V'Lille : www.vlille.fr

• Bus and metro : https://www.transpole.fr

• Shuttle bus (Navette) : https://www.flibco.com/en
• Lille Airport : http://www.lille.aeroport.fr/home/
• Train SNCF : https://uk.voyages-sncf.com/en/#/
• Train Eurostar : http://www.eurostar.com/uk-en
• Train Thalys : https://www.thalys.com/fr/en/
• ouiBUS : http://www.ouibus.com/


Still not done travelling ?
Explore Europe on SNCF's OUIBUS! Travel at low cost and in comfort and enjoy a fun journey through France, Italy, the Netherlands and many other top destinations. Also, enjoy more seats on new double-decker buses between London and Paris!